---
Raymond Biesinger Wholesale
Welcome to the online catalogue of the Montréal-based artist, illustrator, and author Raymond Biesinger. That's me. If you want to know more about my work and I, you can wander around my regular website by clicking the buttons up top. If you're interested in ordering my prints for your shop, everything you need to know should be right here. Just read these infos, scroll down to browse the catalogue, and e-mail
raymond@fifteen.ca
with quantities and print codes. If all goes well my assistant Hannah and I will get your order out the studio door within a week.
Of note: while a few of my older prints have been silkscreened by professional hands, most of them are now printed in-studio on an
Epson T3170
using
Epson UltraChrome XD2
archival pigment ink on
Epson Enhanced Matte 192 gsm
paper. The sheets are bright, the colours are deep, and the edges are sharp.
Also, I don't offer frames, but all my prints are at generally "standard" sizes in North America and are easily framed despite their deluxe sizes. And because every shop has their own preferred way of displaying prints, prints are sent carefully rolled but without branding or wrapping. This'll let you display them in a way that works with your own particular aesthetic. Finally, all prints are printed in open editions and signed and dated on the reverse.
Estimated Shipping Times & Costs
In addition to a week or two to print and pack an order, shipping an order of 12-36 prints within Canada or the USA takes 2-8 business days and costs $15-40 CAD. Shipping a similar package to Europe would take 4-8 weeks and cost $50-85 CAD, and to Australia or NZ would take 4-12 weeks and cost $60-100 CAD.
Terms
-$500 CAD minimum order
-prints arrive rolled and packed in Epson's very durable paper shipping system
-anything damaged in transit will be refunded or replaced
-shipping costs, duties, and taxes are the buyer's responsibility
-accounts are payable via cheque or e-transfer
-non-Canadian buyers will be billed in their home currency
-invoices are on 30 day terms
Current Stockists
Kit
(Calgary),
Fort Edmonton
,
Maven & Grace,
the
RAM
and
Vivid Print
(Edmonton),
Lost & Found
(Halifax),
Mixed Media
(Hamilton),
Happy Thoughts
(Kingston),
Spruce Moose
(London),
Sumi's
(Los Angeles),
Affiche en Tête
,
L'Affichiste,
La Boutique du Musée McCord,
Montréal Images,
and
Paperole
(Montreal),
Hoxton Home
(Nanaimo),
Gift Horse
(Nashville), the
OAG Shop
(Ottawa),
Shop Cold Pizza
(Saskatoon),
Labour of Love
and
Spacing
(Toronto),
Gifted
(Waterloo), and the
Dalnavert Museum
(Winnipeg).
Contact Info
Raymond Biesinger Illustration Inc.
2679 rue Wellington
Montréal, QC, Canada, H3K 1X8
raymond@fifteen.ca
1-514-264-2382
---
CANDES
︎︎︎ 100 Years of Canadian Design


$80 CAD suggested retail ea.
$40 CAD wholesale ea.
24x36" digital print
1.5" margins
released 2021
A tribute to a century of Canadian design history and the graphic designers who designed it. Around this designer are a Seripop poster, Honest Ed's sign, the 1968 Skidoo ad campaign in calendar format, a Kitchener-made Ruspan brochure circa 1952, a Richard Florida buzzterm, CN Railways clock, two litres of No Name brand something-or-other, a call for gender pay equity, studio cat, and the original Littlest Hobo title card. In her desk:
Wallpaper
,
Shift
, and
Applied Arts
mags, a 1955 Eaton's catalogue, Naomi Klein's
No Logo
, a box of "pre-1940s ads, weird racist shit and pro-war posters," a Northern Electric Baby Champ radio, the '76 Olympics, Canadian Standards Association, Transcanada Airlines, National Film Board, CBC and Parks Canada logos, Ontario accreditation, a brayer, Lepage's glue, hot wax paste-up machine, Rush's
2112
, etc. Want more insight on it? Investigate the explainer video on YouTube. Oh, and I deeply regret not including Laurentien-brand pencil crayons.

CALENG, CALFRA, CALESP
︎︎︎ The Biesinger Four-Year Calendar

$40 CAD suggested retail ea.
$20 CAD wholesale ea.
24x36" digital print
0.5" margins
released 2023

This is a deluxe-sized but easily-framed one-sheet calendar made with the same quality paper and ink used on other my studio-made art prints. Its years are thick and simple digits in a heavily customized Superclarendon, its months and days are marked via an adjusted Helvetica. Why four years? All the better to keep the price down, conserve paper and get to know you and yours. Also, a little bird suggested framing it and making notes on it with a dry-erase marker.

Available in three languages: English, French, and Spanish.
BULLDO
︎︎︎ The Bulldog Café
$80 CAD suggested retail ea.
$40 CAD wholesale ea.
24x36" digital print
1.5" margins
released 2022
This slightly overwhelmed looking guy is the Bulldog Café that once stood at 1153 West Washington Boulevard in LA from 1928 to 1966. He might've been bulldozed then, but he was also reincarnated at 2:3 scale for a 1991 movie called
the Rocketeer
, and that reproduction eventually found a new, permanent, home at the Idle Hour on Vineland Avenue. What a life. Whether you call it "memetic architecture," "novelty architecture," "programmatic architecture," or "an absolute cutie pie," this dog needs your love and wall space.
HIGHRI
︎︎︎ High Rise
$80 CAD suggested retail ea.
$40 CAD wholesale ea.
24x36" digital print
1.5" margins
released 2023
This is High Rise, a 13-storey, 26-apartment examination of the good, bad, and odd elements of high density living. Just like your own life, it includes a mounted fish, an indoor BBQ grill, a threesome, an angry cloud watching Fox News, love itself, a cat and a mouse getting on a date, my studio, hoarders, gym rats, real rats, a great party, a not-great swimming pool, ample storage space, an underground parkade, a well-stocked library, a laundry room, a spying neighbour, etc. I don't think I've ever worked on a piece for as long as I've worked on this one, and I definitely can't remember half of that's in it. Put it on your wall in a place you can stare at for a long, long, time while drinking your morning coffee.
CALCC
HAMCC
QUECC
WINCC
EDMCC
MONCC
TORCC
HALCC
OTTCC
VANCC
︎︎︎ Canadian Cities print series

$60 CAD suggested retail ea.
$30 CAD wholesale ea.
24x24" digital prints
1.5" margins
released 2012-2015

In April of 2012 what began as my attempt to get to know Canada's architectural heritage turned into a four-year and ten-piece obsessively illustrated series of prints showing my adopted home city of Montreal, my old home town of Edmonton, and eight other Canadian cities during specific moments in their history. Montreal on the opening day of Expo '67? It's there. Calgary on the opening day of the '88 Olympics? That too. Ottawa on VE day in 1945? Wouldn't miss it for the world. Each print comprises between 50 and 125 specific landmarks and buildings, as well as a small square in each print that presents its title and historical date. Of note: some of these are silkscreened, but all are being transitioned to digital as copies sell through.

Available in the series: Calgary, Edmonton, Halifax, Hamilton, Montréal, Ottawa, Ville de Québec, Toronto, Vancouver, and Winnipeg.



COFMUG
︎︎︎ The Complete Fantasy Coffee Mug Collection

$80 CAD suggested retail ea.
$40 CAD wholesale ea.
24x36" digital print
0.5" margins
released 2022

This is an illustrated and collaged set of 104 real, almost-real and definitely-not-real coffee mugs shoehorned into one enormous print. You could also call it a coded autobiography of the artist via modern hieroglyphics, and it sports footnotes (at bottom) to give the viewer at least a scant hint of the provenance and meaning. Ideal situated next to a breakfast table for early-morning gazing.
AFFBET
︎︎︎ The Affabet
$80 CAD suggested retail ea.
$40 CAD wholesale ea.
24x36" digital print
1.5" margins
released 2021
While it's not always easy to collaborate with a two-year old, The Affabet is a perfect union between my little Billy's incredible ability to butcher the English language and my ability to draw simple things simply. Whether it's wall art for your kid's room or nursery, or a baby shower gift, let this be a reminder that the right ways sometimes aren't the most amusing ways. See a YouTube video of yours truly reading the words right here.
MAILTR
︎︎︎ 1987 Portland Int'l Mail Truck Expo Souvenir Sheet of Stamps
$40 CAD suggested retail ea.
$20 CAD wholesale ea.
8x8" digital offset with spot varnish
released 2022
If Portland, Oregon, hosted an exposition of international postal trucks in 1987, Canada Post would be there with brand new branding, Nigeria's Nipost would be the debutante, and the eastern bloc countries would show how to apply central planning to parcel delivery. No such event happened, of course, but you can still commemorate it via this set of limited edition stamps showing a dozen well-researched would-be participants of that fantastic non-event. Each stamp sheet is part of a limited edition of 100 copies. This exists because of the philatelic geniuses known as the Portland Stamp Company, who are incredible.
CALGMV
HALIMV
MONTMV
TOROMV
WINNMV
︎︎︎ Canadian Music Venues print series

$60 CAD suggested retail ea.
$30 CAD wholesale ea.
24x36" digital prints
1.5" margins
released 2020-2022

What happens if you spend years playing in bands, love expressing information visually, and suddenly find the nightlife out of reach? These oversized maps show Canadian music venues past and present, each spanning more than a dozen genres and a century of history. Punk, dance, jazz, alt, metal, thrash, hiphop, new wave, world beat, big band, weirdo, cabaret, hair band, space pop, regular pop, bluegrass, blues, folkie, swing and DIY music venues? They're all there, along with their addresses and approximate years of activity. Note: let me stress the word "approximate" here, as this series includes a large number of educated guesses and assumptions. Info about some of these venues is rare-to-nonexistent, so please excuse the errors and drop me an e-mail if you have anything to add or change.

Available in the series: Calgary, Edmonton, Halifax, Hamilton, Montreal, Ottawa, Toronto, Vancouver and Winnipeg.

BEEFCT
PORKCT
︎︎︎ Beef & Pork Cuts

$60 CAD suggested retail ea.
$30 CAD wholesale ea.
18x24" digital prints
1.5" margins
released 2012

This art print is an accurate 13-point beef cut chart I made that ran as a half-pager in the Sept. 2011 issue of the decor and home-keeping mag Real Simple. It was part of that issue's Fall BBQ guide, and this represents the most streamlined end of my work. Sometimes it's best to say things with sparse type and careful forms instead of detail, detail, and detail. Oh, and there is also a pork-cut chart buddy I made it a few years later.

GPQUR
︎︎︎ Great Plains Queer
$80 CAD suggested retail ea.
$40 CAD wholesale ea.
24x36" digital print
1.5" margins
released 2022
After collaborating with artist, writer, and researcher Steacy Easton on the "25 Queer Country Hot Hits" pamphlet I knew I'd like to work with her again, and here's the result: a gigantic pictorial map showing locations of queer lust, love, and existence of the Great Plains region's past, present and future. Includes illustrations and notes about everything from Edmonton's Pisces bathhouse ("one of the most sophisticated bathhouses in the Prairies") to the 1970s gay cowboy nightlife utopia of Dallas. Along the way: 1920s Missoula lesbian adventurer Astrid Arnoldsen, the Lethbridge Birth Control & Information Centre, the Yankton Jackers j/o club, Winnipeg's Golden Boy, truckstop threesomes near Stillwater, cruise sites aplenty (both indoors and outdoors), and dozens and dozens of other rarely-documented regional queer points of interest.
PLDBLU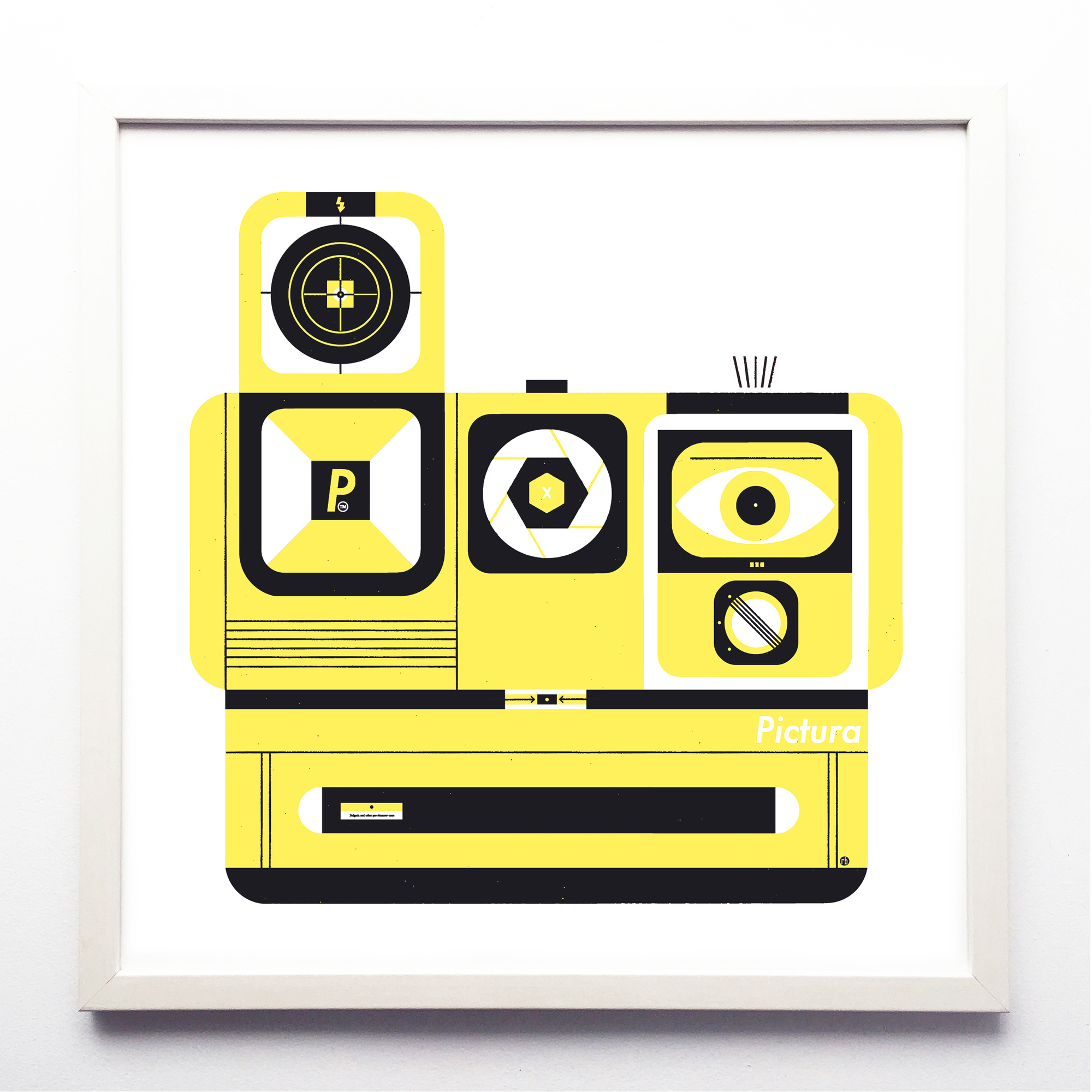 PLDYEL
PLDRED
︎︎︎ Polaroids print series
$60 CAD suggested retail ea.
$30 CAD wholesale ea.
24x24" digital prints
1.5" margins
released 2020
Are you ready for your close-up? Roughly based on a Polaroid 600, OneStep, and Impulse, I originally made the blue one for the cover of old friend David Berry's debut titled
On Nostalgia
(Coach House Books) and the others for fun. The book is highly recommended non-fiction.
BETTER
︎︎︎ Better Cities Through Design

$80 CAD suggested retail ea.
$40 CAD wholesale ea.
24x36" screenprint
1.5" margins
released 2014

It's always a pleasure to stretch out and make tall illustrations in print, and this gentleman ("Better Cities Through Design" is his name) originally stood about 20" tall in the 25 June 2014 issue of the Washington Post accompanying a piece about that city's (and many other cities') efforts at finding greater health through design. Now he's somewhat taller and definitely grander. With and within him: urban gardens, bikes, lemonade, the Anacostia River, pleasant stairwells, the Smithsonian Museum, bike lanes, pedestrian lanes, specific houses, green spaces, a Metrobus, swing set, fresh fruit, a farmer's market and a chipper little dog.
SINGLS
︎︎︎ Canadian Singles
$60 CAD suggested retail ea.
$30 CAD wholesale ea.
24x24" digital print
0.5" margins
released 2022
There's a subgenre of my work that I call "collecting things and putting them in grids," and in this case the "things" are 99 Canadian 45 RPM record labels made between the years 1955 and 1975, all collected by fanatic record collector Sam Shulman. We selected them together with an eye for geographic diversity (almost every city in Canada is represented here), aesthetic merits (the Apex Records logo makes our knees weak), and our very subjective ears (to hear the Haunted's "1-2-5" is divine), and then I retouched and arranged these beauties in a way that let them sing. Genres include garage, psych, soul, R&B and pop. Some standouts: Jackie Shane, the Lords, the Shondels, Wes Dakus, Alberta Slim, the Hawks, the Young Society, Susan & Terry Jacks, Barry Allen, the Great Scots, etc . For more information on Sam's collection, visit him on Instagram and hear him walk through Canada's '60s garage scene right here.
DISSNC
︎︎︎ Discontinued Snacks of Canada
$80 CAD suggested retail ea.
$40 CAD wholesale ea.
24x36" digital print
1.5" margins
released 2022
While no serious historian would pretend Canada is the birthplace of the chocolate bar or the cradle of candy treats, we had a sweet thing going for most of the 20th century. Lowney's, Willa'rds, Neilson, Moirs, and others made delicious confections from home bases in Montréal, Toronto, Halifax, and elsewhere. Here we've collected thirty such confections, captioned them with vital information, and deployed them in deluxe print form. Why do I say "we"? Because all pics and writing were provided by Brian Sheppard and his physical archive of historic Canadian sweets packaging, an archive that you can see on Instagram right here. There's also a short video of me talking about the print on YouTube.
CANALB
HALILB
OTTALB
SASKLB
VICTLB
CALGLB
HAMILB
QUEBBP
TOROLB
WINNLB
EDMLB
MONTBP
STJOLB
VANCLB
︎︎︎ Lost Buildings of Canada print series
$60 CAD suggested retail ea.
$30 CAD wholesale ea.
18x24" digital prints
0.5" margins
released 2016-2021
Since 2016 I've been immersed in the research and illustration of vanished Canadian architecture, and besides the surprise national bestselling book on the subject I've also made fourteen prints capturing our nation's prematurely bulldozed, burned down, or otherwise disappeared structures of note. Currently in the print series: a deluxe "37 Lost Buildings of Canada" silkscreened print (at 24x36" and $40 CAD wholesale) and a collection of smaller 18x24" prints that focus on individual Canadian cities. Scroll down to see them all, and I've put a video up on YouTube about these drawings, too. Available in the series: Canada, Calgary, Edmonton, Halifax, Hamilton, Montreal, Ottawa, Quebec, St John's, Saskatoon, Toronto, Vancouver, Victoria, & Winnipeg.
USALB
BROOLB
FTWOLB
MANHLB
PHOELB
SANDLB
AUSTLB
CHICLB
HOUSLB
NASHLB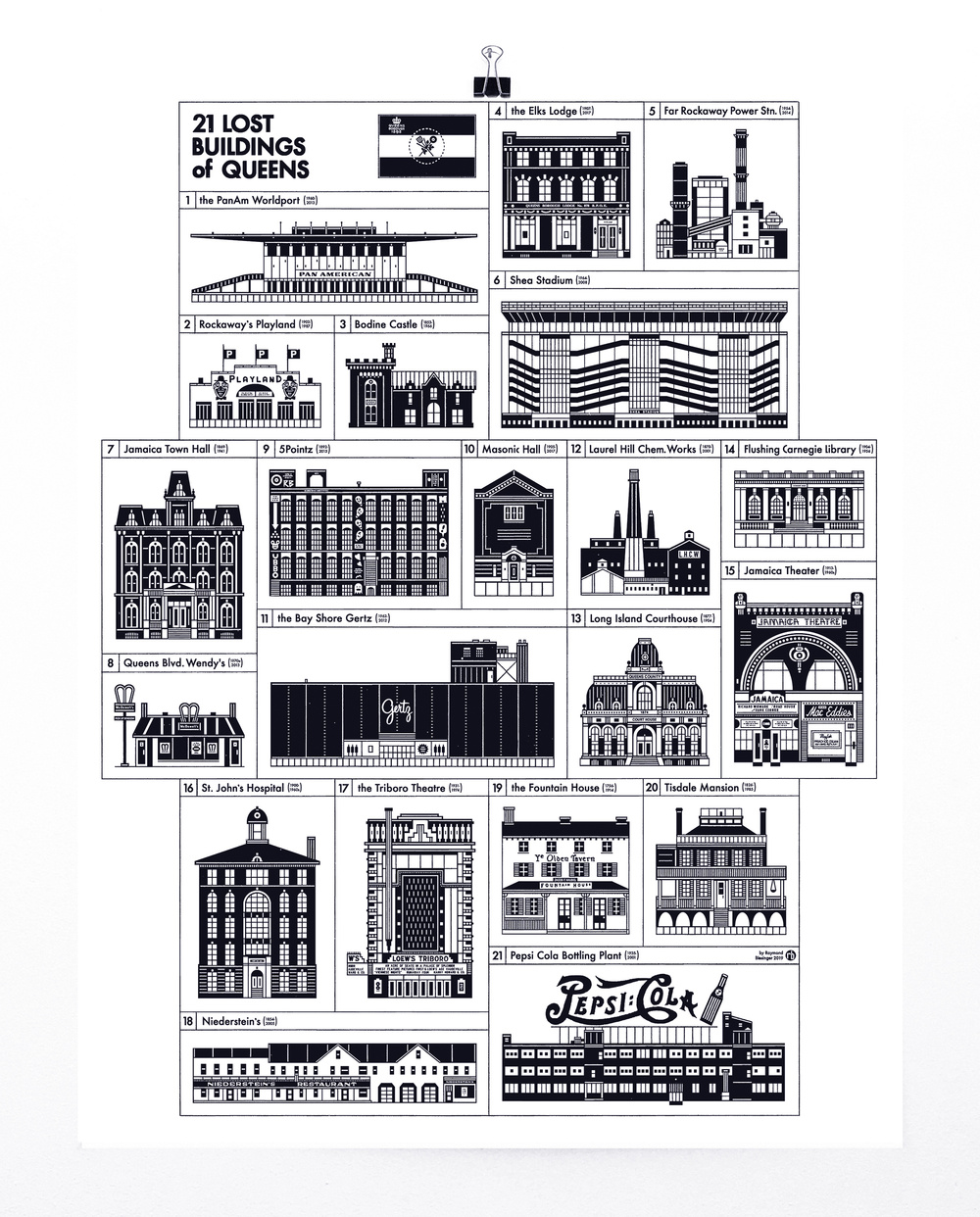 QUEELB
SANFLB
BRONLB
DALLLB
LSANLB
PHILLB
SNANLB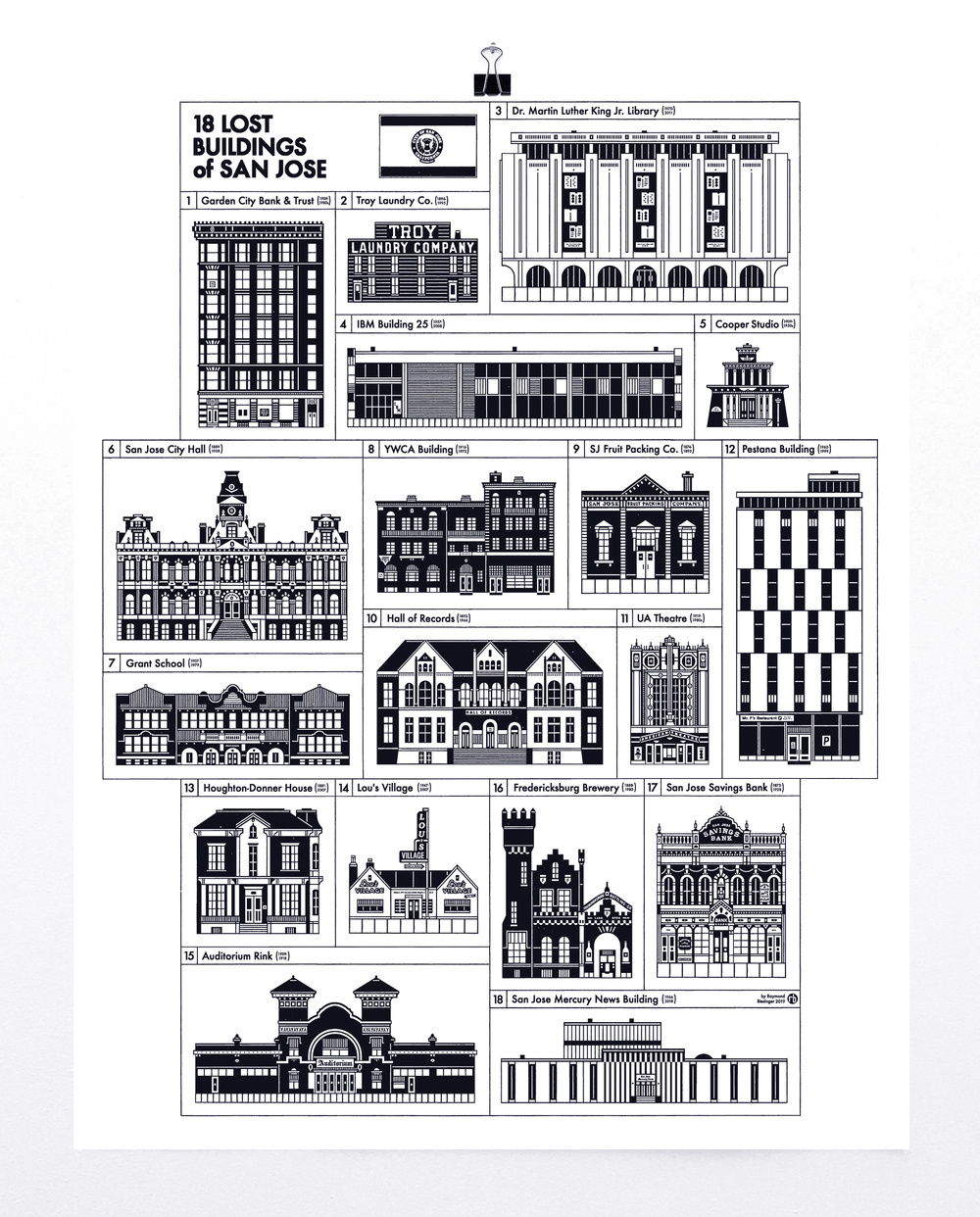 SANJLB
︎︎︎ Lost Buildings of the USA print series

$60 CAD* suggested retail ea.
$30 CAD* wholesale ea.
18x24" digital prints
0.5" margins
released 2018-2021

After a few years of just illustrating the lost buildings of Canada, it made sense for me to extend the project south of the 49th paralell. Did it take some time? Yes. You can see the results here in the form of 17 city-specific prints that collectively include 350-plus demolished, burned down, and otherwise "lost" buildings, and a silkscreened giant "best of" collection titled "35 Lost Buildings of the USA" (at 24x36" for $40 CAD wholesale). If you live in an American city or NY borough with more than 500000 inhabitants, that city is probably represented here, as well as a few others below that size.

Available in the series: USA, Austin, Bronx, Brooklyn, Chicago, Dallas, Fort Worth, Houston, Los Angeles, Manhattan, Nashville, Philadelphia, Phoenix, Queens, San Antonio, San Diego, San Francisco, & San Jose.

FELANA
︎︎︎ Feline Anatomy

$60 CAD suggested retail ea.
$30 CAD wholesale ea.
24x24" digital print
1.5" margins
released 2014

This is Cleo the studio cat's exterior and interior appearance, but you're free to project the identity of any cat you wish on it. It's for anyone who's ever stared into his or her favourite pet's eyes and asked "what's inside that thing?" Shown: accurately located olfactory mucosa, buccal molar glands, optic nerves, sclera, chin fluff, cheek fluff, etc. I'm especially proud of how the inner ear turned out. This print has landed in more than a dozen veterinary offices, and they're unanimous: I somehow haven't made any anatomical mistakes.

FEMANA
MALANA
︎︎︎ Female & Male Anatomy

$60 CAD suggested retail ea.
$30 CAD wholesale ea.
18x24" digital prints
1.5" margins
released 2013

These are two 36-point anatomy charts, one for the ladies, one for the men. In them: the brain (including the parietal, frontal, occipital, and temporal lobes, cerebellum and brain stem), the thyroid, esophagus, lung (including trachea, main stem bronchus, bronchi, some bronchioles), liver (divided into two lobes), gallbladder, and such heart components as the aorta, ventricles, and pulmonary artery. Also, the stomach, duodenum, spleen, pancreas, kidney, intestines, etc. Mandatory wall art for any doctor's office, med student residence, or human dwelling.

MUSMED
︎︎︎ Music as Medicine

$60 CAD suggested retail ea.
$30 CAD wholesale ea.
24x24" digital print
1.5" margins
released 2014

If your Swedish lessons are going well and it was almost a decade ago, you could drop by Kmagasin.se and find this art print in its natural habitat, along with its partner, an illustration of Dr. Vitrola examining a patient. If those lessons aren't going too well (and your time machine is busted), trust me when I say it accompanied a piece about the medicinal value of music in Karolinska Universitetssjukhusets Magasin's 1.2014 issue. I spent an unreasonable amount of time on her earrings, but I think she deserves that kind of treatment. Art direction by Markus Hillborg. Printed in an open edition, signed and dated on reverse.
EDBAND
︎︎︎ Chronology of Edmonton Bands

$60 CAD suggested retail ea.
$30 CAD wholesale ea.
24x36" screenprint
1.5" margins
released 2016

This is an oversized one-colour silkscreened chart showing the complex evolution of the Edmonton music scene from 1950 to 2010. It started as an exercise in community memory; local musicians were asked to report bands they'd been in, their membership, and years of activity. 157 higher profile groups were picked from that info and given a slot on one of the chart's 20 lanes. On it you'll find such semi-known Edmonton hit makers as Cadence Weapon, Barry Allen, Willy & the Walkers, SNFU, Darkroom, the Wet Secrets, the King Beez, Brewtals, and Troyka. I definitely wouldn't call this complete, but I would call this an excellent start to understanding Edmonton's music history.